Your Team For Tire Repairs in Calgary
Do you need new tires, but keep putting them off? Don't wait until you have a blowout to get a new set of tires. Good Tire is your leading team for tire repairs in Calgary. We can assist with all tire issues, from installation to repairs and replacement. 
Our expert technicians are trained in the proper mounting and installation of tires. From tire pressure monitoring systems to balancing, all vehicles require a certain level of care for proper fit and long wear. With our advanced equipment, you can take advantage of these and other benefits. Whether you're bringing your own set or buying them from us, our trained techs are ready to help.
At our tire shop in Calgary, we offer a large variety of tire repair services, so we can assist all our customers. One of our in-demand services includes balancing. When our expert technicians balance your tires, they ensure optimal driving performance by helping the wheels spin evenly. Our balancing service includes:
Finding any imbalances and correcting them
Re-mounting the wheels and tires
Mounting of each wheel on an advanced balancing machine
Spinning the wheels to ensure that their weight is balanced around the vehicle's axle
Proper balancing is crucial to your car's performance. Daily tread wear causes changes in weight distribution around the wheel and tire, but when your wheels are balanced, you'll see less tire and drivetrain wear and you'll get a smoother and more enjoyable ride.
If your tires are in otherwise good condition, it will take a while for them to become unbalanced. Many experts recommend that you get your wheels balanced every 5000-10,000 km, but if you're experiencing steering wheel vibration or uneven tire wear, you may need to get it done sooner. Stop by today to get back in balance with our tire service in Calgary.
Certified technicians on site to serve you to your satisfaction. Good Tire is the tire specialist you can rely on!
15" Steel Wheel : Starting At $63 Each
16" Steel Wheel : Starting At $68 Each
17" Steel Wheel : Starting At $78 Each
We Offer Tire Rotation as Part of Our Service 
As part of our tire repairs in Calgary, we also offer routine tire rotation. With this service, you'll prevent premature wear and help your tires last longer. It's especially important on front-wheel drive vehicles, as tire wear affects your vehicle's steering and power. The speed with which your tires wear has much to do with the type of tires you're using. Though softer compounds provide increased grip, they wear faster. Your driving and your vehicle's alignment also play a role. With our expert tire rotation services, you'll get the longest life possible from your tires.
When we rotate your tires, we'll move them from one side of your vehicle to the other, from back to front, or both. Our service includes:
Inspection of tire wear patterns
Re-mounting the tires where they'll wear evenly
Resetting the TPMS (if applicable)
Tire rotation will evenly distribute wear, maximizing traction and tire lifespan. It's an important part of an overall maintenance plan, and it should be done every 5000-10,000 km. Visit us today to get your tires rotated by a team of experts!
The Complete Package for Tire Repairs in Calgary 
Who spilled the bucket of nails along the highway? Now, you're not only dealing with a flat tire, but you're going to be late for work. But with our tire repair service, you don't have to worry. Our expert technicians will repair your tire, balance it, and remount it in just a few minutes. Here's what's included:
Removing the tire from the rim
Liner repairs for an airtight seal
An inspection of your spare tire
Your tires are the only thing between you and the road, so it's important to take care of problems quickly. Call or come in today to give your tires the care they deserve.
Tire Troubleshooting Services
Sometimes, you just know there's something wrong with your tires, but the cause might not be clear. With our tire troubleshooting service, we'll examine your tires, check them for proper wear and inflation, and make repair or replacement recommendations. Save time and stay safer on the road with our tire troubleshooting service. Visit us today to get started.
As busy as our lifestyles are these days, it's easy to ignore your tire pressure. However, under- or over-inflation will adversely affect tire life, handling, and fuel economy. Here are a few signs that it's time for a tire pressure inspection:
The TPMS (tire pressure monitoring system) light comes on
Your tires squeal when the vehicle turns
The tires look rounded and deflated

During an inspection, we'll check the pressure in all four tires. We'll also evaluate them for leaks, premature wear, and other signs of pressure-related problems. Finally, we'll inflate your tires to the correct pressure. If you believe your tires are over- or under-inflated, let one of our team members get them back where they're supposed to be.
Tire Pressure Monitoring System Service
Proper tire inflation is crucial to the safe braking, steering, traction, and stability of your vehicle. When your tires are under-inflated, your fuel economy will suffer. Furthermore, poorly inflated tires will wear out sooner and more unevenly. With our tire pressure monitoring system service, we'll test each TPMS sensor's batteries, and then we'll check your tire pressure and set it to the correct specification. Finally, we'll conclude the service with a courtesy vehicle inspection.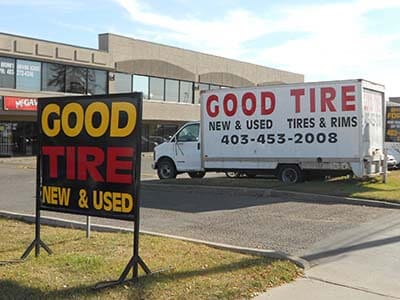 Good Tire Shop
Good Tire at 52 St. SE Calgary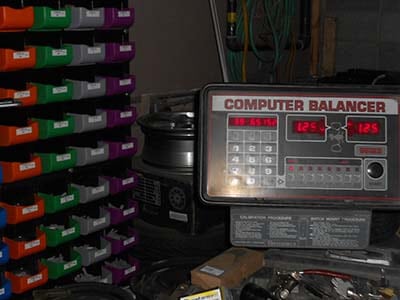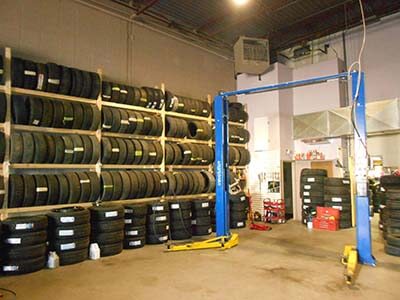 Large Inventory
Installation Added on Purchases
All vehicles have specific tire requirements that must be met for safety reasons. These standards are used to determine which tires are mounted on vehicles from the factory. Installing a set of tires that fail to meet the manufacturer's specifications (the wrong speed rating, the wrong size, or the wrong load index) can have an immediate negative effect on your vehicle's safety and performance. We recommend that you refer to your owner's manual to ensure that you're replacing your old tires with the right new set. If you are looking for new tire recommendations, we can help. Just stop by and one of our friendly, knowledgeable associates will help you find the right set of tires no matter what you're driving.
Things don't always go as planned where the rubber meets the road. That's where a road hazard plan comes in. This optional coverage protects you and your tires from difficult-to-avoid road debris, punctures, cuts, and pothole damage. Along with a maintenance program that includes proper alignment, balancing, and tire inflation, road hazard coverage will help you protect your tires, save money, and stay safe.